| | |
| --- | --- |
| Gallery | Coconut Island Club International, Hawaii |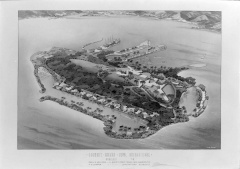 Coconut Island Club International, Hawaii
Photographer: Maynard L. Parker, 1940. The Huntington Library, San Marino, California
Forty-five minutes by speedboat from Honolulu, Coconut Island was the south sea location of the 1940s paradise for five wealthy American businessmen. With year-round temperate weather, luxuriant plantings, natural wading pools and a world-class dock for expensive pleasure boats, the island was the perfect setting for a private resort where "members and their families can enjoy vacations under the most delightful conditions possible anywhere in the world." (Los Angeles Times, February 16, 1947)
Featured in the opening scene of Gilligan's Island, a 1960s television sitcom, the island was first developed in the 1930s by Christian Holmes, heir to Fleischmann Yeast. Holmes purchased 25 acres and spent more than $1 million beautifying his retreat by shipping in 1000 coconut palms, constructing numerous greenhouses for exotic plants, and even installing a private zoo. A series of saltwater ponds were created in the surrounding reef for tropical fish and his pet porpoises. During World War II the army used the island as a rest camp for combat officers building barracks and adding electrical, plumbing and a sewage disposal plant and improving the dock facilities. After the war Holmes put the island up for sale and Edwin W. Pauley, his brother Harold, S.B. Mosher, Poncet Davis, and Allen Chase purchased it for $250,000.
This 1940 Maynard L. Parker photograph of an architectural rendering by Ross Allen shows the group's unrealized vision for their private resort, Coconut Island Club, International. A collaboration of Paul R. Williams and A. Quincy Jones, the drawing illustrates the architects' concept for the millionaire's playground and exclusive resort. Described by Ed Pauley as the ultimate "retreat for tired businessmen," the drawing shows the four-story, 26-suite hostel and proposed amenities. Swimming pools, boathouses, tennis courts, bowling alley, and a lookout tower with a view of Kaneohe Bay and Oahu were all part of the master plan.
Their vision of the resort island as an exclusive private club owned and frequented by "substantial people—important people, if you will, notables, or call them what you like…" proved to be too restrictive to support the grand building project. Soon after the drawing was completed, the venture was abandoned. By the early 1950s Edwin Pauley was approached by the marine biologists at the University of Hawaii's fledgling Marine Laboratory to use the island's boat facilities as a base for their research vessel. Pauley responded, "We have a lot of other facilities here. Could you use anything else on the Island?" (Robert M. Kamins. Malamalama: A History of the University of Hawaii, 1998) By 1995 Coconut Island had indeed become the world-class facility Pauley and his friends envisioned. With a grant from the Pauley Foundation, the University of Hawaii purchased the entire island and established their Institute of Marine Biology. Instead of a millionaire's playground, the island became a haven for world-class scientists.