| | |
| --- | --- |
| Gallery | Louis Cass Ranch House, Temecula, CA |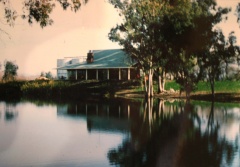 Cass Ranch House, Telmecula, CA
Pond view of house at original location, courtesy of Roripaugh Family, no date


Williams, who designed over 3000 projects, often walked the site with his client sketching his ideas while describing how the finished building fit the terrain. Whether the project was a small home for returning veterans or a showcase estate for wealthy executives, Williams believed a design should complement each site. While many of his contemporaries designed mansions for the nouveau-riche-Hollywood crowd, Williams was known as the architect who best understood the physical location. In the past forty years at least three owners of Williams' buildings have elected to preserve these structures by moving them to new locations: the La Concha Motel lobby in Las Vegas (2010), the Landau House (2007) in Holmby Hills and the Louis Cass Ranch House (1970s) in Temecula, California.
Insurance broker Louis Cass and his socially prominent wife Virginia owned two Paul R. Williams designed homes during their marriage. In his youth Cass was one of the most celebrated amateur athletes in Southern California. (Los Angeles Times. November 27, 1911) Attending Los Angeles High School he was named "all-southern" quarterback. A sports powerhouse, the LA High football team (image 3) competed against colleges as well as secondary schools. In 1908 and 1909 the Cass-led team defeated Occidental College, Pomona College and USC. (Historical Society of Southern California Quarterly v. 24 1942 and Los Angeles Times. August 8, 1913) After lettering in baseball, rugby (All-American selection) and football at Stanford, Cass graduated and married Virginia Nourse in 1914. They settled in a Berkely Square home— a wedding gift from her father.
In 1921 the prosperous couple selected the new Flintridge development as the site for a grand home reflecting their place in old-line Los Angeles society. Though they had an architect in the immediate family, Clinton Nourse, they chose newly-certified Paul Williams to design the home on Woodleigh Lane. (Historic Berkeley Square June 16, 2011) A photograph and floor plan of the two-story Tudor-revival home were featured in the popular magazine Charles Scribner's Sons Architecture (May, 1924).
The couple continued to live in Flintridge but developed an interest in ranching and the healthy outdoor life-style. They were drawn to the Temecula Valley in Riverside County, a rural area located midway between Los Angeles and San Diego. From its earliest settlement the area was known for its temperate climate, fruit trees, farms and hot sulfur springs, "no two of these springs are exactly alike in mineral properties and temperature." (19th century marketing pamphlet Pauba Land & Water Co.) Together with ranchers Leo and Marian Roripaugh they owned Temecula Rancho.
In 1954 the Cass' commissioned Paul Williams to design a simple ranch house on a small hill overlooking a reservoir from the east side of the county highway. Though not as grand as his earlier project for the Cass family, the Williams' rancho design had a large comfortable porch overlooking water, open rooms and an over-sized roofline shading the windows. The architect also included an unexpected number of Hollywood finishes: marble counters, thresholds and backsplashes, an automatic dishwasher, washer/dryer and state-of-the-art radio and "T-V" equipment. (Paul R. Williams, A.I.A. Specifications for a Ranch House. 1954)
By 1971 Louis Cass had died and Virginia no longer came to the valley. Through a previous arrangement their home reverted to Leo and Marian Roripaugh, who continued to refer to it as the "Cass House." As land developers aggressively moved into the area, Leo transported the house across the highway. The Roripaugh children, June and Jack, enjoy retelling the story of the big move. Yeager Brothers House Movers cut the house in two and carried it on platforms to its new site.
For the next ten years the Cass Ranch House was home to the extended Roripaugh family. June Roripaugh Tull recently described her family's love for the house, "My Mom and Dad enjoyed every day living in the 'Cass House' ... with a constant caravan of friends and family.... The place was tough. The kids climbed and hid on closet shelves and found many hide-n-go-seek places. Both Mom and Dad were very proud of the house."
In 1989 developers bought Temecula Rancho for a new subdivision. Before the house was torn down, Yeager Brothers House Movers returned to help the family salvage a small part of their beloved Cass House. The massive stone fireplace and hearth—made of stone quarried on Temecula Rancho—was lifted onto a truck and given to a family member to incorporate into their home. Images 1 and 2 are some of the few surviving photos of the Cass Ranch House on the original site as envisioned by Paul R. Williams.
(Thanks to June Roripaugh Tull for sharing her memories and photos of the Cass Ranch House.)