| | |
| --- | --- |
| Gallery | Casa Palmeras Apartment Hotel, Palm Springs, CA |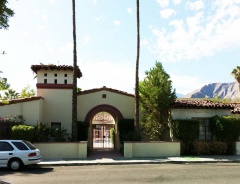 Casa Palmeras Apartment Hotel (Palmaire Apartments)
Photographer Leslie Luebbers, 2011, Paul Revere Williams Project




Americans in the late 19th century fell in love with all things Mediterranean. Small hacienda-like homes and commercial buildings modeled after adobe missions were built in communities across America. Eventually public taste changed but the Spanish Colonial Revival-style architecture remained popular for decades in desert locations such as Palm Springs. The Casa Palmeras Apartments designed by Paul R. Williams in the late 1920s is an example of his interpretation of this style. Williams, a young architect, designed scores of public and private projects in this style.
Originally an unsuccessful farming venture and the site of a tuberculosis sanatorium, Palm Springs' real growth started after the First World War. In 1920 the healthful low humidity, natural beauty and relaxed atmosphere attracted 400 visitors as winter residents. Newspapers, movie magazines and travel guides recounted the charms and medicinal strengths of the area. Scores of health books touted miraculous cures "even to the fatally ill." (Griswold. The Golden Age of American Gardens. 1992) The number of seasonal visitors in Palm Springs quickly grew to over 1,500 by 1925. Improved highways and rail lines attracted Southern Californians looking for an exotic spa-like destination closer to home. To meet the demand, more than $1million was spent each year in the Palm Springs area on residential construction, city beautification and improved infrastructure. (Los Angeles Times. November 29, 1925) Investors began to build small hotel/apartments catering to the growing number of part-time residents.
Contracted by a now forgotten investor, Williams designed the Palmair Apartments (original name) on undeveloped Tamarisk Road as a high-end apartment for visitors who wanted a more perminant place to stay during the "season." Period photographs from 1930 show a free-standing, single-story structure built on a desolate sandy area without streets, curbs, sidewalks or formal landscaping. The apartments, a mix of small studio and one or two-bedroom units, were clustered around a central court designed as a sitting area for residents. The central court now contains a swimming pool. (To view historic pictures visit California State Library-Picture Catalog select Picture Catalog and input Palmair Apartments in the search box.)
During the 1920s custom dictated which architectural style should be used for particular types of buildings. For structures in the Palm Springs desert clients believed a "rustic interpretation" of Spanish Colonial Revival was well-suited to the hot, dry climate and incidently would give modern buildings an instant heritage look. (City of Palm Springs Citywide Historic Context Statement & Survey Findings. October 13, 2015) For Casa Palmeras Williams incorporated many of the typical Spanish Colonial revival elements: thick adobe-like walls for coolness, hand-made-red-clay-tiled roof, extensive wrought ironwork details including window grills (rejas), mismatched chimneys, imposing archways and a picturesque bell tower (image 4).
At the peak of its popularity Casa Palmeras was home to a number of film stars who enjoyed the winter season but did not want to make a perminant commitment to the Palm Springs area by buying a home. Regulars included Clifton Webb, Ann Sothern, Bert Wheeler and Harold Lloyd.
In 1986, the City of Palm Springs created the Las Palmas Business Historic District. The Casa Palmeras apartment was listed as an important anchor. Current photographs show a building little changed from Williams' original design. A 2012 report nominating the apartments for inclusion as an historic site notes the architect's skill at adapting an overused revival style "to create an intimate and warm residential living environment for the small apartment dweller… This building is a clear example of Williams' command of the Spanish Revival style and …his ability to adapt the style to a multi-family setting." (Historic Site Preservation Board Staff Report. HSPB-82- Casa Palmeras Residences. June 12, 2012)