| | |
| --- | --- |
| Gallery | E. Bastheim Residence, Hancock Park, CA |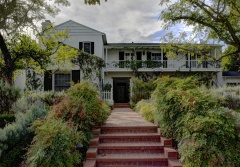 E. Bastheim Residence, Hancock Park, CA
Photographer, David Horan, 2011, Paul Revere Williams Project


"Taste is not only a part and an index of morality—it is the ONLY morality…Tell me what you like, and I'll tell you what you are." (Ruskin. The Crown of Wild Olive: Three Lectures on Work, Traffic, War. 1902)
During the 1920s building a home in Hancock Park made a statement about the owner—who he was or aspired to be. Selecting a site and the architect, choosing an architectural style and interior decorations all became part of his story. In spite of a difficult economy during the Great Depression, scores of wealthy buyers jockeyed to purchase the choicest lots in the development. Though lots cost $10-$15,000, Hancock Park was 80% sold by 1930. (Resnik Co. Hancock Park Square: A Marketing Pamphlet, 1973) [Using the US Government CPI Inflation Calculator $10-$15,000 equals $142-$213,000 in 2014]
Spanish inspired designs dominated Southern California residential architecture for decades but Hancock Park quickly became a showcase for other styles. Paul R. Williams was responsible for designing many of these homes. He became known as a master of revival design and was sought after for his ability to apply the key historic elements of an architectural style to the exterior "skin" of a building while delivering a home with a modern floor plan and "California feel." (Wesley H. Henderson. Harold L. Williams: Oral History, 1993) Often using recycled brick from demolished structures and mature plantings his homes had the look of "instant" history, but were filled with the latest and most expensive technology.
One key to Williams' continuing success was his ability to understand a client's psyche. In a 1970s interview Williams described the importance of knowing a client and "…the personality you design around. People don't always know what they want. It is the architect's job to help them find it..." (Los Angeles Times. October 11, 1970) In 1928 when he designed the South Hudson Avenue residence of Edmund and Irene Bastheim, Williams crafted a businessman's show place while acknowledging the refined, more conservative taste of his wife. Edmund was a first generation American-born businessman while Irene represented Los Angeles' Jewish establishment.
Born in San Francisco, Edmund worked in sales as a young man supporting his mother and siblings after his father was killed in a freak elevator accident. (San Francisco Call. January 27, 1899) Graduating from San Francisco's Polytechnic High School, Bastheim travelled extensively in the West selling consumer goods to retailers. In his 20s an uncle introduced him to Irene Enkle and the couple was married in 1907 in an elaborate religious ceremony. (Los Angeles Herald. January 17, 1907)
Irene, daughter of a prominent Los Angeles family, left San Francisco with her husband to be near her family. Edmund worked diligently to make connections in the LA business community and by 1909 purchased the Adams & Abel wholesale jewelry and diamond business. He changed the company's name to E. Bastheim Co in 1910. Before her marriage Irene was an enthusiastic philanthropist and committeewoman and she continued her work throughout her life. (Who's Who of Women in California. 1922+ and National Jewish Blue Book. 1927+) The couple travelled across the country for business and entertained a large circle of friends. (The Jewelers' Circular. 1920+) In 1928 they hired Paul Williams to design a home in Hancock Park that reflected their busy lives and growing family.
The Bastheim's Monterey Revival-style residence (ZIMAS) is one of the many historically inspired homes built in Hancock Park. Monterey Revival was a homegrown invention—a fusing of popular Spanish Colonial and English elements creating a unique California style. The result was a two-storied house with different exterior material applied to each floor (stucco, brick, clapboard, shingle), a prominent cantilevered balcony or porch feature and a low-pitched gabled roof. Typically 'L'-shaped, the design was well suited for a narrow, deep lot. Built on a slight slope, the Bastheim home has typical for Hancock Park, with its front brick steps, landing and walkway leading to a formal entrance. (Hancock Park Preservation Plan. November 8, 2007)
Now an accepted style, the Monterey Revival was considered a fresh though conservative design choice in 1929… the correct option for a prosperous, up-and-coming Los Angeles businessman. Irene's taste is evident in the interior adornment and choice of Hazel Hartman as decorator. The Bastheim house was an early project in Hartman's career. (Later in the 1940s and 1950s Maynard L. Parker photographed her Early American interiors for publication in popular women's magazines.) An advertisement in the May 1930, California Arts and Architecture features one of the "formal" rooms Hartman designed for the Bastheim home. Furnished entirely in 17th century American and English style pieces, the photograph showcases the hand-printed scenic wallpaper landscape covering the walls of a room with a heavily coffered ceiling. This expensive, handcrafted paper based on antique French, English and American originals was usually installed in a home's public spaces rooms to create a panoramic, opulent effect. Elsie de Wolfe, the innovative 20th century American decorator, often advised her clients as Williams did, that "understatement" was the key to creating an impression. She mused that scenic paper should be limited to those rooms, like a hallway, where "one doesn't loiter." (Jennifer Boles. In With the Old. 2013)