| | |
| --- | --- |
| Gallery | Lloyd Bacon Residence, Los Angeles, CA |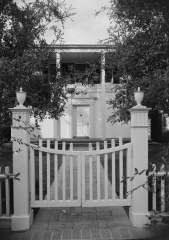 Residence, Lloyd Bacon, Exterior
Photographer: Maynard L. Parker, The Huntington Library, San Marino, California







Movie buffs credit Al Jolson's film The Jazz Singer as the first talking picture. Film historians mention a forgotten film The Glorious Betsy with its "occasional lapses into spoken dialogue via the Vitaphone" (Los Angeles Times, May 20, 1928) as a possible first talkie. The 1928 film The Lion and the Mouse directed by Lloyd F. Bacon (image 8) at Warner Brothers must be credited as the earliest movie where conversation is used throughout the film. While the audience only heard Jolson sing in The Jazz Singer, the dialogue in Bacon's film was an integral element advancing the plot and clarifying action. Interviewed by the Los Angeles Times prior to the movie's premier, Bacon predicted that in the future a star's handsome profile or pretty face would not be enough to ensure popular success. "Talking pictures are going to be a moving force in the film industry … responsible for a new screen personality. The stars will be those who not only register well on the screen, but whose voices adapt themselves to harmonious and pleasant projection of tone as well … He must know his part perfectly before the camera starts its work."

Almost 80 years later few people know Lloyd Bacon. While other pioneering directors aspired to produce serious, critically successful films, this busy director cranked out what his studio wanted, not art but scores of popular moneymaking product. Between 1927 and 1932, Bacon made over 20 films including his 1930 "upbeat version" of Moby Dick in which Ahab kills the great white whale and lives to tell the tale in New Bedford (Peter Lehman Close Viewing, 1990). Known throughout the industry as quick and on-budget, Bacon directed 100 films during his career and was Warner Brothers' highest paid director earning only $775 less per week than Darryl F. Zanuck, the studio's head of production.

During his lengthy Hollywood tenure the public avidly followed Bacon's personal life, career and style choices through newspaper articles and photographic spreads in interior design or women's magazines. His numerous marriages and divorces (Los Angeles Times, January 2, 1942 "Cupid Scores Knockout Blow Over Divorce Among Motion-Picture Folk of Hollywood"), luxury vacations, many homes and even his prize winning wire-haired fox terrier were chronicled for a curious public.

One of these glossy life-style essays (Pictorial California and Pacific. 1938) was illustrated with photos taken by Maynard L. Parker and showcased the director's recently purchased Toluca Lake home designed by Paul R. Williams. Bacon bought the two-story Southern Colonial-style residence in 1937 from the original owner, Luther M. Barrick, for $40,000. Barrick, a native of the state of Washington, had commissioned Williams to design the residence in 1934 and completed it for $9,000-- a large sum for the time. (Los Angeles Times. June 24, 1934) In his design, Williams included many of the must-have style features desired by his wealthy Los Angeles clientele but on a much smaller scale. (see the Jay Paley residence) Examples are the popular 1930s motif of an inlaid directional axis in the den (image 5) and the grand entry with curving staircase (image 4).
Though the residence was completed in 1934, Bacon planned elaborate additions and the installation of a swimming pool with amenities. A contemporary newspaper account of the property transfer (Los Angeles Times, August 8, 1937) described the remodeled home as "one of the most beautiful in this locality."
Bacon with his wife and son, Happy, vacationed in Palm Springs while their home underwent redecorating by Sylvester La Chasse of W. & J. Sloane and renovations including an addition, installation of a swimming pool, and other facilities. The result was an interior of "quiet charm and dignity." Parker's dramatically lighted photographs of Williams' designed stairway and entry (images 3 and 4) helped create the popular perception of how Hollywood's elite lived.