| | |
| --- | --- |
| Gallery | Walter Scott Bachman Residence, Hancock Park, CA |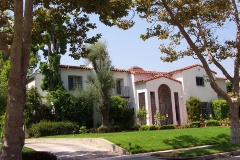 Walter Scott Bachman Residence, Hancock Park, CA
Photograph courtesy of Zimas database August 23, 2001
During the 1920s Hancock Park was a showcase for many highly regarded Southern California architects. To please their wealthy patrons they designed homes inspired by history with the Spanish or Mission Revival styles being the "safest" choice for most clients. Constructed of lightly colored stucco veneer with clay tiled roofs, arched or rectangular shaped windows embellished with ornate grills, these regionally inspired buildings were well suited to the area's moderate climate and outdoor life style. In the fluid society of Los Angeles, social station often reflected acquired wealth, not pedigree. To the newly affluent, owning an "historic" Spanish style residence connected them to the region's "make-believe past" (Peter Becker. The City Observed: Los Angeles.1984). One social wag wrote in the Los Angeles Times, "I find the Spanish house… reminds me of my Spanish ancestors, of whom I haven't any" (October 31, 1926).
In 1926 business executive Walter Scott Bachman and his wife Juliet purchased a large lot on South Hudson Avenue in Hancock Park. The couple selected young Paul Williams as their architect and builder Ben K. Tanner to supervise construction (ZIMAS). Williams' client base was expanding and he had already completed a number of Spanish Colonial Revival homes in the area. The Bachman's decision to hire Williams may have been influenced by the recommendations of friends or business colleagues or they may have been impressed by the refined curb appeal of his many projects in the neighborhood.
Williams was developing his personal aesthetic and honing skills at incorporating his client's personality and aspirations into each design. Often asked what made a successful home design, Williams noted a frequent consumer mistake: "Ornament is what dates a building…tires the eye and become antiquated" (Los Angeles Times. March 24, 1938). Though his residential designs all had the latest amenities and technologies, Williams insisted that his historic designs must have an "authentic skin" and not depend on architectural gimmickry (Wesley Henderson interview with Harold L. Williams, University of California, 1993). The Bachman residence completed in 1927 is an example of Williams' insistence on historic authenticity while creating an interior with a well-organized modern flow.
While planning their home with Williams, Walter was the President of two local companies—Puro Filter, a water treatment/dispensing company, and Ray Lane Candies Company (Los Angeles City Directory 1927-1936). A "hands on" executive, Bachman held a number of essential patents for treating and sterilizing drinking water. The South Hudson Avenue residence became an elegant setting for family celebrations and the site of philanthropic activities for the Jewish community. The Bachman's at home activities were frequently described in the social columns in the Los Angeles Times (May 14, 1929 and September 11, 1932). Their place in local society was further enhanced when their home was photographed for Architectural Digest (1930).
The Architectural Digest photographs of the Bachman home show Williams' original entrance. (A covered, multiple arched entry with decorative ironwork panels was added at a later date.) A paver and clay tile path led to the front door where the oversized lintel was embellished with a classic churrigueresque plaque. Custom iron lanterns and large clay planters flanked the door. Many of the full length windows on the second story had balconets—decorative balconies with iron railings and no flooring. The home's entry, often described as grand, linked the formal living and dining areas with views to a fully landscaped back yard and pool area designed by Edwards H. Rust. Juliet worked with decorators from Barker Brothers, at the time the largest furniture company in Southern California. The affect was one of comfort, luxury and total California living.
Williams often stated "Four walls and furniture do not guarantee a home in the highest sense of the word … discriminating home owners demand an abode which reflects their own personality, satisfies their own particular needs … thus creating a 'home' rather than a house" (Los Angeles Times. March 24, 1938).