| | |
| --- | --- |
| Gallery | Assistance League of Southern California, Hollywood |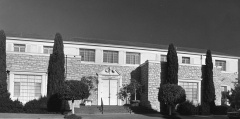 Anne Banning Community House, Los Angeles, CA
Photograph courtesy of Assistance League of Southern California Archives, 1975

In 1961 the Assistance League of Southern California, a leading Los Angeles philanthropy, selected Paul R. Williams to design a new Community House at 1370 North St. Andrews Place. At the 1964 dedication, society newspaper reporter Christy Fox wrote, "It doesn't seem possible. But it is! For the past two days I have been walking around pinching myself to be sure. That beautiful, wonderful, elegant new Anne Banning Community House, headquarters for the Assistance League of Southern California, is a must on your see list…It is a dream built by hours and hours of good work of one lovely lady, Mrs. Hancock Banning" (Los Angeles Times, September 11, 1964).
When Anne Ophelia Smith married Hancock Banning in 1890, the marriage united two established Los Angeles families. The "lively and irrepressible" Hancock was the son of Phineas Banning, a driving force who established Los Angeles as a major west coast port. Anne was the daughter of prominent attorney George H. Smith. As one of the city's first power couples, Anne and Hancock were a daunting team, changing the philanthropic and entrepreneurial landscape of the region. As a successful coal and transportation businessman Banning would buy and develop Santa Catalina Island with his brothers (BRMV Banner News, May 1992). Involved with various relief projects throughout her life, Anne would help establish the Assistance League of Southern California (ALSC) in 1919.
Until 1906 Anne Banning's role was that of a traditional wife, mother and supportive social hostess for a successful young businessman. Reading about the terrible aftermath of the San Francisco earthquake and fire, Anne recruited her well-connected women friends to raise money to aid those who were underserved by conventional charities. An intelligent and creative problem solver, unencumbered by tradition, Anne devised novel fundraising methods to support her charitable causes. As a Los Angeles socialite with access to everyone-who-was-anyone, she realized many would pay to attend parties in private homes and clubs of the Los Angeles elite and Hollywood stars. Though a new idea, her "pay to attend" was an instant success and would became a model for 20th century fundraising (Assistance League of Southern California: Building for the Future, October 1994).
After working with many civic aid groups and forming the local Red Cross chapter, Anne and her close friend Ada Edwards Laughlin met with ten women and one man to formally organize the Assistance League. Using $15,000 Banning personally borrowed from a local bank, the Assistance League bought and renovated the Hollywood building they would occupy for the next 45 years. By the early 1960s the League had outgrown their Hollywood space and was ready to move into the newly designed Paul R. Williams' campus.
Williams' plan for the two story, colonial revival-style Anne Banning Community House fulfilled the League's need for a business environment combined with gracious, elegant space for entertaining—teas, luncheons and privately hosted events. The spacious foyer was reminiscent of Williams' elegant residential designs. The lower floor housed a large oval-shaped tearoom with break-out space for private parties, the Women's Exchange where "women could sell their handmade finery—lace, linens and lingerie—to support their families," an art gallery and a Gift & Consignment Shop. The upstairs housed offices and board rooms "where the big business of volunteer philanthropy is conducted" (Los Angeles Times, September 11, 1964).
Anne Banning would serve as ALSC president until she retired in 1948 at the age of 77. Her charm, deep social network and business acumen attracted the on-going support of the most important philanthropists of her time including many Paul R. Williams' clients. In 1935 Dr. Raphael Herman's role as a Day Nursery benefactor for the League was commemorated with the unveiling of a bronze bust in his honor at the nursery (Los Angeles Times. October 18, 1935).
Banning did not live to see the construction of the new Assistance League House with her name. Often surprising and horrifying her friends with unconventional fundraising ideas, Anne's understanding of human behavior combined with her business acumen forms the tenets of today's American philanthropy.