| | |
| --- | --- |
| Gallery | Paul R. Williams receives City Council proclamation n.d. |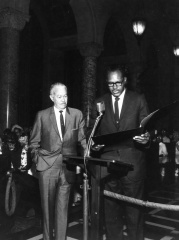 Paul R. Williams receives a City Council proclamation from Councilman Tom Bradley.
Security Pacific Collections, Los Angeles Public Library
Before he was elected in 1973 as the Mayor of Los Angeles, Tom Bradley was a member of the City Council representing the 10th District. This undated photograph of Councilman Bradley presenting Paul R. Williams with a proclamation honoring his architectural work and service to the city represents the long-standing relationship of these two men. Ranked as one of Southern California's greatest residential period revival designers, Williams also played an important role in reshaping mid-century downtown Los Angeles. Young planners from across the country came to "apprentice" with the architect. Among them David Alexander Wallace, Jr. Wallace would become the chief of planning and development in Philadelphia and often credited Williams as a major influence on his ideas. (Washington Post, July 21, 2004)
Mayor Bradley appreciated the importance of architecture and public art in creating a great urban environment. As the skyline of Los Angeles grew during his five-term tenure as Mayor, so did the place of public art thanks to his mandated "one percent for art" policy. Bradley affected enormous physical changes to Downtown and the rest of Los Angeles through his philosophy of "Big Ideas." Williams created designs for many of the future Mayor's ideas, including the ambitious expansion of the Los Angeles International Airport that would anchor LA's role in international trade.