| | |
| --- | --- |
| Gallery | Paul R. Williams, (LA) Municipal Art Commission, 1953 |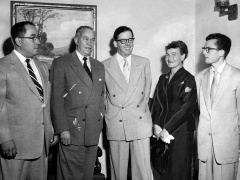 LA Mayor Norris Poulson with his new Municipal Art Commissioners
Herald Examiner Collection, Los Angeles Public Library
Los Angeles Mayor Norris Poulson (1953-1961) stands with four of his newly appointed Commissioners including Paul R. Williams. Appointed to the Municipal Art Commission in 1953, Williams' original term was for 3 years, He had been selected by the Mayor to replace another well-known Los Angeles architect, Charles Luckman. (Jet. Sptember 10, 1953) Williams would serve as the Commission's President for over a decade beginning in 1957.
Williams had always been keenly interest in the arts and his drawing ability was acknowledged by the architecture community. His work was featured in a number of group and one-man exhibits in Los Angeles and across the country. In 1958 shortly after becoming President of the Commission, examples of his drawings were exhibited at the downtown Architectural Gallery. (Los Angeles Times. June 8, 1958)
The Municipal Art Commission was organized by private citizens in 1903 and was officially established as a city entity by the Los Angeles Charter in 1911. The Commission's role was to approve the purchase or acceptance of any work of art by the City as well as determine the placement of the art. During his tenure as Mayor, Poulson was noted for extensive freeway development, the rehabilitation of downtown LA, the development of the Civic Center complex including the County Court Building, and the expansion of the airport. Paul Williams was involved in the design of many of these iconic Los Angeles projects.