| | |
| --- | --- |
| Gallery | Workman Residence, Beverly Hills, CA |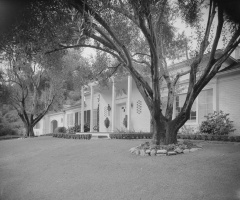 Residence, Workman, Exterior, 1940s
Photographer: Maynard L. Parker, The Huntington Library, San Marino, California



"Sam Workman, whose secretarial and office help service is big business, reading an urgent letter from Ernie and Edie Kovacs—who just bought Sam's Beverly Hills, Cal., manse. It pleads: 'Where's the switch for the swimming pool lights?' " (Herb Lyon Chicago Daily Tribune, 1958)

During the 1940s and 1950s Maynard L. Parker photographed for popular design and women's magazines many of the deluxe homes built for California's famous and not so famous. The glossy pictorial layouts influenced the taste and purchasing choices of a growing American middle class. These Parker images taken for Architectural Digest are of the Paul R. Williams' designed Sam Workman residence, with interiors by Anthony Forsythe of Barker Brothers Interiors. They are an excellent example of this 20th century magazine genre.

Sam Workman, an employee of a Chicago calculating-machine manufacturer, is usually credited by the Temporary Help Sevice industry with the original idea of renting workers by the hour for particular and/or seasonal projects. Workman supplemented his income by hiring fellow salesmen to work evenings taking inventories for other companies. Eventually in 1929 he started Workman Diversified Enterprises and expanded his service to include women for part-time general office work. Soon he had over 19 offices across the country. (Mack A. Moore, Industrial and Labor Relations Review, 1965) In time this entrepreneur sold his temp business to Western Girl, Inc. By the 1940s he and his family moved to Beverly Hills and into their new Georgian Colonial Revival-style home designed by Paul Revere Williams.

This Williams' classic revival-style residence is typical of the architect's work during the 40s creating homes for newly successful businessmen from the midwest and east. With their hard-earned wealth they were able to move their families to the west coast to experience the temporate weather and excitement of Southern California living. While the exteriors of their homes were familiar, traditional symbols of wealth, the interiors signalled their embracement of a new life-style.
These Parker photographs highlight the simplified and uncluttered California modern look interior designer Anthony Forsythe created for the Workman home. (images 2-4) Forsythe worked for Barker Brothers, one of the largest furniture retailers in the United States. In 1929 the company introduced a new design concept in their downtown Los Angeles store. They branded this concept, Modes and Manners, an in-house boutique specializing in modern furniture and modern accessories influenced by the European art moderne movement. With the opening of Modes and Manners the store radically changed aesthetic direction. Instead of supplying only period revival furnishings, Baker Brothers introduced the new look to a Southern California market they felt was ready for change. "When, at some future date the history of the American furniture movement is written, the Baker Bros. store in Los Angeles … will undoubtedly be recorded as among the early leaders in the development" of the modern aesthetic in interior design. (Good Furniture Magazine, November 1927)

Ernie Kovacs, the television personality who bought the Workman home, was also an original. Despite his early death in an automobile accident, Kovacs' ad-libbed and zany comic style continues to influence performers as diverse as David Letterman and Captain Kangaroo and programs as different as Saturday Night Live and Sesame Street.

Though most Americans no longer remember Sam Workman or Ernie Kovacs, their ideas continue to influence how we work and what we laugh at.