| | |
| --- | --- |
| Gallery | Woodrow Wilson High School, Los Angeles, California |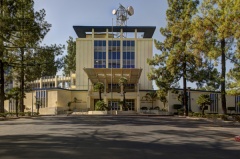 Woodrow Wilson High School, Los Angeles, California
Photograph: David Horan, 2011, Paul Revere Williams Project







"That comforting symbol, the little red schoolhouse, so simple and so inexpensive, has become a museum piece. Today's schoolhouse is more correctly an educational plant because it is highly complex and expensive."
George Lundgren "School Design— New Design" Los Angeles Times. April 24, 1966
Though Paul R. Williams was best known for designing residential and commercial buildings, throughout his professional career he personally valued projects that directly impacted the lives of children and young people. Frequently providing these designs free or at a reduced fee, Williams believed: "There are some projects… that are more important than the amount of money they earn you." (Karen Hudson. The Will and the Way. 1994) Though the design of the new Wilson High School (1966-1970) would create scores of technical and engineering challenges for his firm, this project provided Williams with a platform to demonstrate the importance of a pleasant physical environment to enhance student learning. As Los Angele's first high-rise educational building, the high school campus continues to be "an academic and community center for the El Sereno and City Terrace communities." (www.lausd.net Woodrow Wilson High School. School Impact Report 2008)
In 1967 the Los Angeles Times (September 25) reported that site preparation would soon start for the new state-of-the-art Wilson High School, projected to cost the county over $7.7 million. Designed by Williams and Associates for an undeveloped 37-acre hilltop, the campus was to serve 2,500 students and open the fall term. Though the site had exceptional panoramic views, it was also an engineering challenge for Williams and his team. More than 1 million cubic yards of earth had to be excavated to create enough flatland for constructon, adding to the project's timeline and cost. (Los Angeles Times. May 11, 1966). Choosing construction materials for the hilly site also proved problematic, with the architects and engineers opting for structural steel as an economical solution. Ultimately 3,500 tons of Bethlehem Corporation steel would be used to build the frames for the main classroom buildings. (Los Angeles Times. July 14, 1968)
Williams' design specifications called for work to be completed in phases. In the first phase the classroom towers were put in place on the newly cleared site. As the first "high-rise" school in the county, Williams considered how the multiple stories would impact all of his student clients including the physically handicapped so each tower was designed with an elevator. (These elevators were the first installed in a California public school.) Economizing on the availabilityof useable building space, a multi-purpose cafeteria was constructed on the roof of the gymnasium. At the time this soution was considered both economical and innovative. (Los Angeles Times. October 22, 1967) Supporting services buildings—library, ROTC, administrative offices were to follow.
The county's announced 1969 fall opening for Wilson High School was overly optimistic with structural challenges, multiple labor disputes, unusually inclement weather and the inability of the original construction company "to meet its obligations" all delaying the scheduled opening until spring 1970. (Los Angeles Times. January 20, 1970)
In 1970 the students of Woodrow Wilson Senior High School moved from their temporary location at the middle school to the new campus on the top of Multhnomah Street. Though Paul R. Williams' eyesight had deteriorated because of diabetes, the campus still showed his life-long "appreciation of beautiful things and details." Skillfully balancing the demands of an ever-evolving modern educational system with the realities of the cash-trapped county, Williams and his staff preserved and capitalized on the beauty of Wilson's physical location.
More than seventy years after the official opening of Wilson High School, though the school's racial and cultural makeup have transitioned, the school's mission and importance to the nearby community remain constant—"To empower all students with the skills and knowledge to become compassionate, inquisitive, principled young people who create through awareness, critical thinking, and a commitment to action and service." In 1949 Paul R. Williams spoke of a similar mission to an assembly of students at historically African American Fisk University in Nashville, Tennessee. Reflecting on the course of his own life, Williams stressed individual enterprise, the power of ideas, brainwork and action. Telling the students that "everything is based on ideas" he challenged them "to use all of their brains and initiative" to create new solutions for today and the future. (Baltimore Afro American. December 10, 1949)