| | |
| --- | --- |
| Gallery | Robert Norman Williams Residence, Ontario, CA |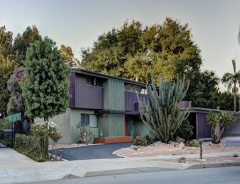 Robert Norman Williams Residence, Ontario, CA
Photograph David Horan 2011, Paul Revere Williams Project

George and William Chaffey, brothers from Canada, were 19th century entrepreneurs who recognized the economic potential of California's Cucamonga Desert, a large empty tract of land east of Los Angeles. Investing $60,000 they purchased 6,000+ acres along with the water rights and established The Ontario Colony. Channeling water through concrete pipes, laying out streets and planting trees the brothers soon were proprietors of a rapidly growing town. The Colony was officially incorporated as Ontario on December 10, 1891. (Los Angeles Herald. August 26, 1909 and www.ci.ontario.ca.us)
Paul R. William's architectural practice was established and growing when Southwest Builder and Contractor printed a small announcement in 1925 that Charles Latimer had hired Williams to design a Spanish Colonial Revival-style U.S. Post Office for Ontario. This building would be Williams' only project in the town until 1935 when Alfred E. Thomas commissioned him to design his residence. Williams' final project in Ontario would be another residence—Dr. Robert Norman Williams' two-story home completed in 1948. (City of Ontario Designated Historic Landmarks, 2013)
Dr. Williams, a local physician and surgeon, was attracted to the clean lines and geometry of Mid-Century Modern, a style growing in popularity after WWII in Southern California. He was fascinated by the aesthetics of Frank Lloyd Wright's Usonian concept home (Organic Architecture and elements of American International style). The Usonian combined the simplified, flat-roof of the International style with the natural elements of the site. In this home Williams used rough wood siding, a manufactured board, and stone as the primary building materials. He used brick, paint and window placement to accent the geometry of the building. In Dr. Williams' residence a mature tree in the rear is "the centerpiece of the property's design and development."
Though known as a master of historic revival style architecture, Paul Williams' decision to design a home inspired by nature is not surprising. In the 1940s Paul Williams was already well known for his ability to incorporate and use the unique characteristics of a site as important design elements. Williams collaborated with local architect Don Williamson, a Frank Lloyd Wright student, to help with the design of this house. Williamson was known in the area for his own California inspired aesthetic.
While the exterior of this home is relatively simple, the interior is a surprise. The open and flowing rooms use landscaping as an important element. Unlike many of his opulent Hollywood projects built in the same era, Williams employed planters, sleek custom cabinetry and wooden screens in place of walls to divide the space. Glass walls fill the rooms with light and views of multiple gardens. "These glass walls are treated not as simple frameless voids but as Mondrian-like compositions." (Alan Hess. Forgotten Modern: California Houses 1940-1970, 2007) Tall windows on the second floor provide the bedrooms with mountain views.
The Robert Williams residence is little changed from the 1940s and is an architectural landmark in the area. While the Usonian design is unique for Ontario, the home is also known for its collection of custom, handmade Sam Maloof furnishings. Maloof created a collection of minimal, fluid, organic furniture that complimented the design of the home. Maloof believed that, "Design exists not just on paper; it pervades every step in the creation of a piece of furniture." (Los Angeles Times. August 8, 1954) Maloof and Williams continued to collaborate on a number of projects.