| | |
| --- | --- |
| Gallery | Mrs. William S. Warfield Residence, Santa Monica, CA |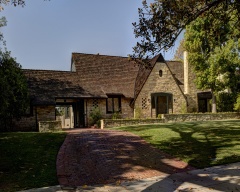 Mrs. W. S. Warfield Residence, Santa Monica, CA
Photographer: David Horan, 2011, Paul Revere Williams Project


Though a proponent of Southern California's popular Spanish Revival/Mission-style architecture early in his career, by the 1930s Paul R. Williams had embraced a variety of historic architectural styles. With an innate ability to understand the aspirations and desires of his wealthy clients, he was considered one of the foremost practioners of revival-style architecture based on popular historic building types, reinvented for California living.
In 1939, Paul Williams created this Tudor-style home for Ella May Warfield nee Payne, the recent widow of William S. (U.S. Census data 1940) Before his death William had been the president of a successful wholesale grocery firm in Sioux City, Iowa. Moving to Santa Monica and purchasing a lot near the Charles Hess family, also newly arrived from Iowa, Ella chose their architect to design her residence.
Located at 2201 La Mesa Drive, this unique Williams take on the ubiquitous 1930s Tudor has a stone exterior, rather than the usual brick or stucco with half timbers found on most buildings of the type. On a street known for its solid traditional architecture, the Warfield residence was a perfect fit.
Along with her selection of Williams to design the residence, Mrs. Warfield hired a "celebrity builder and developer," E.P. Dentzel. Dentzel was known for excellent, quality work and the use of only the finest of building materials. (City of Santa Monica Historic Resources Inventory) The developer of Harold Lloyd Greenacres (1929) and the 7th elected Mayor of Beverly Hills (1945-1950) Dentzel was recently added to the Beverly Hills master list of important architects, builders, landscape architects whose work is worthy of preservation. (July, 2012)
The Warfield home is now included in Santa Monica's Historic Resources Inventory.