| | |
| --- | --- |
| Gallery | Von Dehn/Simms Residence, Beverly Hills, CA |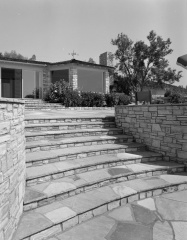 Von Dehn/Simms Residence, Beverly Hills, CA
Photographer: Maynard L. Parker, The Huntington Library, San Marino, California





Glossy life-style magazines of the 1940s described millionaire and entreprenuer Hyatt Robert Von Dehn's residence as the consummate honeymoon home and a California Shangri-La — "a place where life can be simple and casual and not without some elegance." (House Beautiful. June, 1946) The home's isolated location with views of the coastline from Laguna to Long Beach was called the perfect home for singer and movie star Ginny Simms, Von Dehn's new bride.
Williams' design for the one-story, fieldstone and wood, ranch-style house compliments the site's spectacular vistas. Constructed of natural materials the building blends with the environment. Visitors described the views as "stupendous and highly personal" and wondered how the architect incorporated the couple's aspirational vision into this perfect home. Sliding glass doors opened the living spaces to elaborate stone terracing with water features and a swimming pool. (Image 2) Large picture windows framed the views like "private murals." (Image 5) Many of the eight rooms had fieldstone accents. Though unpretentious by Beverly Hills' standards, expensive coffered ceilings, game and music rooms gave the home a touch of Hollywood glam. (Image 4) House Beautiful reported that during their honeymoon Von Dehn hired Zann Earl of Barker Brothers' interior designers to reinvent his bachelor home to suite his new bride. The magazine described the result as "a fairy tale and the quintessence of all the dreams … the perfect place to be alone."
Professionally successful, Van Dehn and Simms were not successful as a couple. Married on July 1945 after an intense one-month romance (Los Angeles Times. July 30, 1945) their rocky relationship was chronicled in fan magazines and newspapers. By 1951 they married and divorced each other twice. During their final divorce proceedings Simms testified: "I tried very hard, she told Judge Orlando H. Rhodes. She said she couldn't stand her husband's constant bickering and criticism…" (Los Angeles Times. March 13, 1951) including his complaints about her cooking. (The Sun. March 13, 1951)
Forgotten today, Simms and Von Dehn were American personalities before World War II. Ginny Simms was the lead singer in Kay Kyser's big band in the 1930s, appearing in concerts and on the radio. Following Kyser to Hollywood, Simms appeared in dozens of musical films. After her divorce from Von Dehn, she started a second career as an interior decorator. Though a creative entrepreneur, modern financial historians overlook Von Dehn's contributions as a 20th century capitalist. Involved in scores of projects his first name, Hyatt, is still associated with one of his early successes in the hospitality industry.
The public's interest in the life of the popular couple was intense and Maynard L. Parker provided a selection of images of the Dehn/Simms residence for many glossy magazines including Pictorial California's 1945 special Holiday Issue. These Parker photographs appeared in a 1946 issue of House Beautiful.