| | |
| --- | --- |
| Gallery | W. & J. Sloane, Beverly Hills, CA |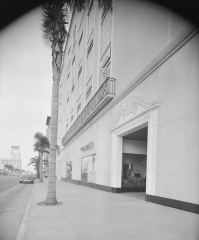 W. & J. Sloane, Exterior, 1950
Photographer: Maynard L. Parker, The Huntington Library, San Marino, California





When Myles W. Andrews, vice-president of W. & J. Sloane announced plans for a new five-story Beverly Hills store in 1948, he confidently assured the Los Angeles Times that the building would be "a credit to" Wilshire Boulevard, the Fifth Avenue of the West. By working with architect Paul R. Williams, Andrews guaranteed the public that the store would be both beautiful and equipped with all state-of-the-art "devices to provide easy, pleasant shopping."

Long before establishing a presence in California, W. & J. Sloane began as a New York-based carpet business in 1843. By 1900 the enterprise had expanded to include a branch in San Francisco and was acknowledged as one of America's foremost furnishing retailers with a reputation for quality and trendsetting design. In 1948 when Williams was commissioned to design the 100,000 square-foot Beverly Hills store, the retailer had expanded its merchandise to include all floor coverings, upholstery, decorating, antiques and period reproductions.

Williams' store design, described as ultra modern, was reputed to include "some of the newest developments in home furnishing merchandising" (Architect and Engineer, March 1951). His innovations included window displays (image 2) prepared in the basement and then raised into position via elevator, underground parking for 150 cars, and a large basement area for truck deliveries. A model house constructed on the fifth floor gave a realistic feel to furniture vignettes and groupings. Combining scientific cove lighting (image 5) with ample daylight allowed customers to make their selections based on true color, texture, and pattern.

Employees were not overlooked in his design. Williams included a special restaurant, lounge, medical room, dressing rooms, and showers for the staff. Never forgetting the store's California location, he incorporated a penthouse garden for recreation and a sun deck.