| | |
| --- | --- |
| Gallery | Town & Country Center Restaurant, Palm Springs, CA |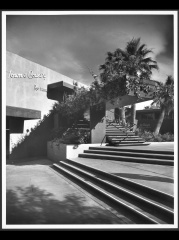 Town & Country Restaurant, Palm Springs, CA
Julius Shulman Photographic Archive, Research Library, The Getty Research Institute







During their long careers Paul R. Williams and A. Quincy Jones collaborated on a number of joint ventures including the Roosevelt Naval Base and the large Del E. Webb residential development in Tucson, Arizona. Early in his career, Jones worked for several established Los Angeles architects, including Williams (1939-1940) and their work together encouraged him to innovate. The creative Jones and gentlemanly Williams made a compelling, successful team. Palm Springs provided the perfect setting for the two architects to enumerate their sophisticated interpretation of the West Coast modern architectural style that was becoming a popular aesthetic in Southern California.
Alan Hess, the author of the bible on Palm Springs architecture, Palm Springs Weekend, described the California resort town as a unique midcentury architectural phenomenon that combined "big money and daring clients." Williams and Jones redesign of the original restaurant (images 1-4) located in the mixed-use Town and Country shopping center (images 5-8) helped to establish Palm Springs as the weekend get-away destination for the powerful of Hollywood.
The Town & Country Restaurant, initially named Top of the Ramp was built in 1948 as the focal point of a chic shopping center. A new retail concept, "The Center" consisted of three, two-story buildings with flat-roofs and steel-frames, constructed around pedestrian arcades and a landscaped, open-air central courtyard.The building that housed the restaurant also included a newspaper office, various retail shops, offices of the Palms Springs Corporation, administrative suites for the center's owner and four residential apartments.
Located off the courtyard of the anchor unit and up an angled staircase, the restaurant's regional modern interior (image 4) featured natural wood finishes and iconic Eames furnishings. Williams and Jones used wood dividers, intricate vertical trellis and planters to split the large open area into intimate spaces. "The trellis was an unusual design that mimicked the coffered ceilings Jones designed for his first house in Laurel Canyon." (Cory Buckner. A. Quincy Jones. 2002) The restaurant's appeal as a customer lure was so effective that its success in attracting patrons to the surrounding shops was noted in the February 1950 issue of Architectural Record.
In 2004, the Palm Springs Citywide Historic Resources Survey identified the Town & Country Center to be one of the most historically important buildings in Palm Springs.