| | |
| --- | --- |
| Gallery | John Charles Thomas Residence, Mandeville Canyon, Los Angeles, California |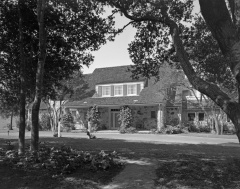 John Charles Thomas Residence, Mandeville Canyon
Photographer: Maynard L. Parker, The Huntington Library, San Marino, California







In the 1930s and 1940s, American baritone John Charles Thomas (image 9) was considered the Luciano Pavarotti of radio. When he made his debut in the operetta The Peasant Girl, New York critics took note of his performance and labeled his voice an "agreeable surprise." (The Green Book Magazine, 1919) Shortly after his debut, he began performing in opera houses (Europe and the New York Met), Broadway musicals, solo recitals, Vitaphone movie shorts and over the radio. Before World War II, Thomas was as popular as Jack Benny, Bing Crosby and Al Jolson. His radio show, Westinghouse Hour, offered an eclectic musical mix from "high brow" operatic arias to "Home on the Range" to "The Lord's Prayer" and "Ave Maria." With his eyes closed and hands clasped, he was described as the singer who could do as he "pleased with the audience … for he and his voice were born to command." (Los Angeles Times, August 9, 1940)
Between the World Wars, Thomas' busy schedule took him to both coasts. His wealth allowed him to maintain apartments in New York, an estate in Connecticut and homes in California. In the early 40s he decided to build a rustic weekend getaway in Mandeville Canyon in California. Thomas was in a hurry to complete his stone and timber home. "He complained frequently to the architect about delays in construction … and the quality of workmanship. In fact, it was a very well constructed home with many fine custom-finished elements that would not be found in other homes of that period … especially given the labor shortages in California." (Michael J. Maher. John Charles Thomas. 2006) The patient architect was Paul R. Williams.
Williams' design for this retreat says much about the client's involvement and demands and the architect's ability to meet them. In spite of a war-time materials shortage, Thomas insisted that the raised foundation use wood and steel I-beam construction as well as a liberal use of scarce concrete in the rest of the house. (This was a home meant to last.) A generous 3-foot plenum, space between floors, provided an impressive acoustic barrier for quiet. Though over 8000-square feet the home still had a cozy, warm and livable feel. The extensive use of wood paneling on the walls and ceilings along with large beams and double hung windows created an organic, treehouse effect. Rotunda seating in the living room encouraged conversation. Taking advantage of the landscape, Williams sited the home to maximize the natural views of mountains, Pacific Ocean, as well as the man-made fountains, pool and gardens. (Later residents noted the abundance of visiting wildlife who also felt at-home on the property.)Thomas also insisted on an underground bomb shelter with four-foot thick concrete walls, refrigators and a secret exit. This was a feature not typically found in a Williams' design.
Maynard L. Parker took these photographs of John Charles Thomas' home in 1944 for the women's glossy magazine—House Beautiful edited by Elizabeth Gordon. When Gordon became editor in January 1942 she was determined to make the magazine a "pace setter" for the new middle-class homemaker "learning to consume." Her goal was to educate her unsure readers about how to discern and select from the many different styles of interior decoration and architecture. Her in-depth editorials and picture-filled essays used the homes of wealthy Americans to illustrate her philosophy—there was more to decorating and creating a home than just buying furniture. Her ideal home was designed by an American architect, decorated by an American interior designer and filled with familiar and comforting American products. Under her editorship many published stories became a "collaborative tale scripted by Gordon, filmed by Parker and starring a celebrity." (Jennifer A. Watts. Maynard L. Parker: Modern Photography and the American Dream, 2012)
Thomas' Mandeville Canyon retreat—designed by Paul R. Williams and decorated by American movie set/interior designer Harold Grieve—featured in House Beautiful supports Gordon's philosophy. The message written over the fireplace Let's Be Our Selves might have come directly from the magazine's copy. (image 5) Through Parker's photographs, Elizabeth Gordon invited her audience to learn how to create an environment filled "above all…(with) the social values that such a house represents." (Maynard L. Parker Archives, Huntington Library)
The appeal of this home endures and has attracted other celebrity owners as well as being used as a location for films and television programs including Hart to Hart (1979-1984) with Robert Wagner and Stefanie Powers.
Special thanks to Curtis Kaufmann for his insights and personal knowledge of this home.
Thanks to Bob Celli for sharing these 2014 photographs of the Thomas residence. Mr. Celli, the creator of "Bobbing Along TV," is featuring the house and extensive grounds in an internet episode of his program that will focus on the locations used for Hart to Hart.