| | |
| --- | --- |
| Gallery | J. Phyromn Taylor Residence, Lafayette Square, Los Angeles, CA |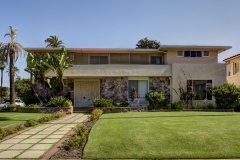 J. Phyromn Taylor Residence, Los Angeles, CA
Photographer: David Horan, 2011, Paul Revere Williams Project

In the annals of Los Angeles' social history owning a home in the park-like LaFayette Square was a symbol of success. Scores of prominent citizens and celebrities have called the community "home" including early film stars, social arbiters, local philanthropists and even a fictional television character—Beaver Clever. By 1921 the layout for the 10-block LaFayette Square tract was completed by the Crenshaw Trust and Realty Company. This Crenshaw Company residential development included custom lamp lights, elaborate metal gates and stone curbing to insure top dollar for the spacious lots. A "demonstration" mansion designed and built in 1912 by local contractor Charles Wagner showcased the "elegance potential" of the subdivision. This house was featured in regional advertisements as an example of the quality construction available to buyers. (Southwest Contractor and Manufacturer. October 19, 1912)
The majority of the 256 houses, an eclectic design mix, were built in the first twenty years. Local architects and builder-contractors assumed "…well-to-do eastern émigrés, up-and-coming entrepreneurs and prominent business and professional men… desired" this mix of period revival styles. (City of Los Angeles Planning Department. LaFayette Square Preservation Plan. 9/25/08) The Crenshaw Company attached a set of "restrictive deed covenants" with every lot to maintain the look and feel of their subdivision. These restrictions, minimum home size, mandatory setbacks and landscaping, were not uncommon in Los Angeles real estate. The restrictions were also used to prevent sales to people of "Ethiopian, Chinese or Japanese descent" or to buyers "not white or of the Caucasian Race." (Jan Loomis. Westside Chronicles. 2012) LaFayette Square would remain racially segregated until the late 1940s when residential covenants were outlawed. The racial mix of the Square dramatically changed by the 1950s and African American professionals bought many of the homes. (Los Angeles Times February 9, 2003) Dr. Jackson Phyromn Taylor, an African American general medical practitioner, moved to LaFayette Square in the 1950s. His home on Wellington Road, designed in 1953 by friend Paul R. Williams, would be one of the rare new builds. According to Taylor family lore, the Wellington address was part of a larger parcel purchased by Los Angeles dentist, H. Claude Hudson, then resold to Taylor.
Though Dr. Hudson was twenty years older than Taylor both men started their medical careers in Shreveport, Louisiana. As members of an elite group of financially successful black men, Williams, Taylor and Hudson belonged to the same private membership clubs (Pacific Town Club), served on many of the same business and governmental boards (Broadway Federal Bank) and socialized together. (Jet. October 27, 1955) Hudson chose to live in the predominately African American View Park subdivision while the younger Williams and Taylor built their family homes in LaFayette Square.
Williams' design for his own family home is usually described as his interpretation of Internationale-style architecture and the Taylor residence is an example of Los Angeles Contemporary. The Contemporary style of architecture was a prevalent choice for construction in new developments built in the city after WWII until the mid-1970s. Combining elements of the Internationale style and Frank Lloyd Wright inspired designs, the home plans incorporated innovative industrial materials developed for the war including plate glass, concrete, plastic laminates, alloys, plywood and composites.
Paul Williams was well known for incorporating personalized design details for clients. In Dr. Taylor's home he created a set of unique modern "geometric details" that were repeated throughout the interior. The motif was used in a floating staircase flanked by a dramatic two-story sandblasted glass wall, metal work, etched room dividers, light fixtures and other midcentury-style custom furnishings designed for the space. Williams' design for the Taylors foreshadowed the open-floor designs now desired by American home buyers—including a first floor with a "sweeping open expanse encompassing the formal entry way, dining room, living room, billiards room…with the only areas in the main floor having doors... the library, the kitchen and the back porch." Bedrooms, sitting area and a sun deck looking down on the backyard completed the second floor. (Personal family communication 2013)
The Taylor residence was completed in 1954, but the relatively young Dr. Taylor died a few years after the family moved in. His widow, Pearl, in an interview in Ebony (September 1961) described the down side of being a successful African American professional, "Pressures are extremely hard on professional men coming into the community today, and a wife has to do many things…She has to look out for the husband and be sure he takes care of himself."
Dr. Taylor would easily recognize his home today. The house remains in his family and except for updating and new paint and flooring, the house has been little changed.