| | |
| --- | --- |
| Gallery | Angelus Funeral Home, Los Angeles, CA. |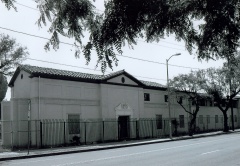 Angelus Funeral Home, 1010 E. Jefferson Blvd, Los Angeles, CA.
City of Los Angeles, Cultural Affairs Department.

The original Angelus Funeral Home at 1010 E. Jefferson Blvd., its relationship to the surrounding Central Avenue community, and the influence of its owners are all important elements for understanding 20th century African American community life in Los Angeles. The emergence of African American funeral homes as a business is a relatively modern phenomenon in urban America. In the 19th century African American burial societies and fraternal organizations met the funeral needs of most African Americans in Los Angeles and other cities. As populations grew, entrepreneurs willing to perform burial services for all community members replaced these service groups. The church, school, and now the black-owned funeral home became important societal resource centers in the area radiating from Central Avenue. The funeral director, typically well-educated and well-respected, was considered a leader in the community. He provided help in death, support for the living through advise and counsel, and financial sponsorship for community functions.

Starting in 1922 under co-partners Fred Shaw and Louis G. (L.G.) Robinson, Angelus Funeral Home got off to a slow start. While the idea of commercial undertaking was new, the number of mortuary businesses in Los Angeles was larger than the small African American population could support. As Shaw and Robinson needed more capital to survive, they sold stock to other investors. John Lamar Hill, son of one of the investors and future President of Angelus, related in a 1984 oral history: "They had some problems. I think they used more red ink than they did black in those days." In time many of the stockholders gave up and sold their shares leaving the company with only three directors: L.G. Robinson, Lorenzo Bowdin and the senior John L. Hill. Under their skillful management Angelus became known for quality of service earning them the title: "Morticians of Distinction" (The California Eagle July 13, 1935).

In the early 1930's the directors decided to build a new funeral home reflecting their growing importance in the Central Avenue community and acknowledging the needs of the sizable middle class African American community. They chose Paul Revere Williams as their architect. John Lamar Hill described their experience: "They were very fortunate. They got the services of Paul Williams, Paul R. Williams, and it was a period where they could — Prices were right, labor was right, and the materials were certainly superior to what we're getting today. So they spent an enormous amount to build that building, all of $44,000. The building was a beautiful, beautiful building, the architecture, it was — The timing was good. And Angelus began to thrive as a result of it!"

The 1934 Spanish Colonial Revival/Georgian Revival-style building Williams designed for the wedge-shaped lot near Central Avenue was a tangible symbol of the Angelus Home philosophy of providing "beautiful memories." Attuned to the vision of the owners, Williams created a building described as "a tribute of farewell to those who pass through its doors on their last journey and a consolation to their loved ones who remain." To accomplish this he created a tasteful, elegant drawing room, one of the largest and finest mortuary church chapels in the area, private "slumber" rooms, and a nursery for small children. Mindful of the living, Williams included many of his up-scale signature touches—banks of windows with views of patios, fountains, flowers and extensive landscaped areas. These were design elements not found in any other mortuary of that era.

The Angelus Funeral Home outgrew the East Jefferson location. In 1961 they moved their operations to a Paul R. Williams redesigned and renovated building on Crenshaw.

The original building on Jefferson was vacant and in 2007 ownership was transferred to the Community Enhancement Corporation (CEC) for use as a community center. It is hoped through preservation and rehabilitation the building will again be a cornerstone of the African American community. Now known as the Paul R. Williams Cultural and Historical Family Community Center, the building has been designated #774 on the City of Los Angeles Historic Cultural Monuments List. On March 19, 2009 the building was added to the National Register of Historic Places.