| | |
| --- | --- |
| Gallery | Barbara Stanwyck Residence, Northridge, CA |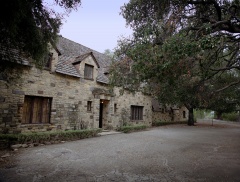 Stanwyck Residence NE corner
Photographer Melissa Brown Bidermann, 2011. Courtesy of The Oakridge Estate Park.













In 1937 movie star Barbara Stanwyck hired an architect to design a large French and English Tudor inspired residence for her 11-acre ranch in Northridge, California. The completed two-story, hill top home with stone veneer, multiple gabled roofline, wooden shingles and 12 rooms was 6,400 square foot excluding the equestrian facility and cost the actress more than $22,000. Renamed Oakridge by the second owner, it would be one of the last intact estates in the area. Traditionally listed as a Paul R. Williams' celebrity design, the residence would become the center of a historic preservation dispute between the Los Angeles Cultural Affairs Commission and the University of Southern California. The design pedigree—the extent of Williams' contributions to the property—is unclear. (Historic Structure Report. Chattel Architecture, Planning & Preservation, Inc.)
Barbara Stanwyck, born Ruby Stevens, was a Hollywood star (image 13 with husband Robert Taylor) whose career spanned the 20th century from silent films, film noir, and western movies to television including the popular series The Big Valley. When Stanwyck moved to the Van Nuys district to raise horses, the population in Northridge was so sparse that the US Post Office listed only 40 names as residents. Groceries had to be brought in from Hollywood and Beverly Hills.
Zeppo Marx, her close friend and manager, bought property along side Stanwycks'. Sharing a passion for horses and racing they combined their 100 acre tract and hired Robert Finkelhor, a young architect, to design homes on the property. Zeppo's house was to be built 100 yards to the east of Stanwyck's. A third smaller house for the ranch manager was also part of their plan. (Los Angeles Times, January 31, 1937 and March 1, 1937) (Marx and Stanwyck named their thoroughbred ranch Marwyck from a combination of their names.) Beaux Arts Award winning architect, Finkelhor had a number of celebrity clients during his career including Zeppo's brother Harpo (Los Angeles Times. March 15, 1936 and May 13, 1957), Bob Hope (1939) and movie producer Henry Ginsberg (1937). Two of these homes are similar in style to the Stanwyck and Zeppo Marx residences.
After marrying actor Robert Taylor, Stanwyck sold the property in 1940 to comedian Jack Oakie (image 14). The remoteness of the Northridge area was a major selling point for many Hollywood celebrities but the newly married couple decided to build a home closer to the movie community in Brentwood. Oakie and his wife Victoria lived in the Northridge home, now named Oakridge, for their entire married life. The Oakies loved their home and wanted to preserve the low-density agricultural nature of their ranch. Refusing offers from developers, they watched as nearby estates were divided, streets were widened and hills flattened for shopping centers and car dealerships. They decided to save their property by applying for status as an historic site.
In 1990, Victoria, now a widow, convinced the City of Los Angeles to designate Oakridge an Historic Monument. With her health in decline she transferred title to her property to the University Of Southern California School of Cinematic Arts. Her ultimate wish was to use the property to honor her husband Jack by establishing a unique academic chair in comedy. Victoria's immediate instruction to USC was to sell the entire ranch complex and use the proceeds to underwrite the new program. Oakridge's designation as an Historic Monument, however, complicated any plans for development.
The City of Northridge hoped to negotiate with potential developers to buy, renovate, and repurpose Oakridge as a nonprofit community centered entity. Eventually the City of Los Angeles purchased the 9-acre estate in December 2009. (City of Los Angeles, Department of City Planning. Office of Historic Resources. Newsletter, July 2010) The Oakridge Estate is currently under the control of the LA City Recreation and Parks Department.
During the 1930s Paul Williams had designed a number of celebrity estates in the Northridge area but not the Stanwyck or Marx homes. Robert Finkelhor's name is listed as architect of record on the original building permit on file with the City of Los Angeles. (1937) Before her death Victoria Oakie wrote a series of books celebrating her husband's life and their shared love of Oakridge. In these books she often cited Paul Williams as their personal architect. (Victoria included a photo of Williams viewing her home after the Northridge Earthquake.) It is speculated that Williams provided designs for a series of renovations and additions to the property during the Oakies' lives. A rendering of the house (image 12) with Paul Williams' name can be found in the Jack Oakie papers housed at the American Heritage Center at the University of Wyoming. The notation F.A.I.A. (Fellow American Institute of Architects) is included with the drawing, a designation Williams received and used after April 1957. Further research is needed to determine the totality of Williams' connection to the house.
(Thanks to Pat LoPresti and Richard Hilton, Oakridge Estate Park Advisory Board; Shane Stuart Swerdlow with Chattel Architecture, Planning & Preservation, Inc. and David L. Sonne of the Jack Oakie and Victoria Horne Oakie Charitable Foundation for their insights on Oakridge Estate and its famous owners.)
For up-to-date information on the preservation of Oakridge go to www.theoakridgeestate.com