| | |
| --- | --- |
| Gallery | Bill (Bojangles) Robinson Residence, Los Angeles, CA |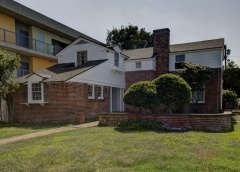 Bill (Bojangles) Robinson Residence 2012
Photographer: David Horan, 2012, Paul Revere Williams Project








People who knew dancer Bill "Bojangles" Robinson (1878 – 1949) agree on three things: he loved to eat vanilla ice cream, gamble with dice or cards, and he lived to dance. At the time of his divorce his wife Fannie accused him of being a danceaholic—a man willing to sacrifice his health and family for dancing. While his personal life was full of contradictions, cultural historians agree he was one of the greatest American dancers of the 20th century.

The word Bojangles is frequently linked to tap-dance, a style of percussive, rhythmic dance originated by African Americans. The word is southern in origin and means "mischief maker." The nickname was appropriate for dancer Bill Robinson, a gifted African American nightclub entertainer, film star and dance innovator with a popularity transcending his race. Robinson's personal life, as chronicled by newspapers and magazines, was a series of misadventures and court appearances. Working in front of a white audience on the vaudeville stage, he never knew when a racial incident might occur and frequently defused rowdy theatergoers with the self-deprecating "having the best time I've had since I was colored." (Jim Hoskins and N.R. Mitgang Mr. Bojangles, 1988) Though the phrase reinforced the audience's belief that Robinson was happy and easygoing, in reality he was an angry man, known to flash a gun and frustrated by his second-class treatment in society.

For much of his life Robinson lived in apartments in Harlem or Chicago. In the late 1930s, busy with his Hollywood film career, he decided to build a home for himself and wife Fannie in Los Angeles (image 9). Fannie hoped owning a home would ground him. The residence built at 1194 West 36th Place would be the only property he would ever own. Fannie and Bill commissioned Paul R. Williams to design their lavish "Hollywood Bungalow."

Fannie embraced the Hollywood-movie-star lifestyle selecting an interior decorator from a large department store to work closely with Williams. The architect preferred collaborating with an interior designer when guiding a novice client through the complicated process of selecting colors and aesthetic details for a home. Williams' philosophy was, "People don't always know what they want. It is the architect's job to help them find it, and keep within the bounds of grace." (Los Angeles Times, October 11, 1970)
Though the couple was rarely in town to supervise the work, Fannie wanted everything to be perfect and entrusted the particulars to Williams and the decorator. Friends visiting the completed home marveled at the furnishings and architectural details "even the toilet paper had to match." Williams designed a wing for Robinson at the rear of the residence containing an adult playroom with a bar, pool table and view of the landscaped garden. With curved walls papered in a jungle motif (images 5-6), the ceiling paneled in bamboo, and brown leather furniture the room is reminiscent of Elvis' Graceland. Fannie especially enjoyed the multiple outdoor living spaces for entertaining friends and playing with her wirehaired terrier, Mickey (image 4). In 1943 the couple moved into their new home, but within six months they had divorced.

By the 1940s Robinson was past his prime with symptoms of heart disease. Fannie pressured him to either retire or slow down, but he refused to give up dancing. After many years of marriage, Robinson divorced the person he most credited for his success, "The first thirty-five years of living were very hard but the last twenty-five have been very easy. Why? Because God sent me a real bodyguard, Mrs. Bill Robinson, and as long as I listen to her I can't go wrong." Fannie kept the Williams' designed residence in the divorce settlement and lived in Los Angeles for the rest of her life. Robinson quickly remarried and never owned another home.

Though Bill Robinson was one of the highest paid African American entertainers of his time, he died broke in 1949. It was estimated Robinson made over $3 million during his career, but died in debt (Jet July 2, 1953). The public speculated about his lost millions believing the mystery might be solved when Fannie's safety deposit box was opened at her death in 1969. Except for a few pieces of jewelry, $11,000 and worthless stock certificates, the box was empty (Jet July 17, 1969).