| | |
| --- | --- |
| Gallery | Pueblo del Rio Housing Project, Los Angeles, CA |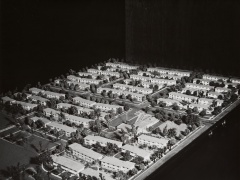 Pueblo del Rio Housing Project, Los Angeles, CA
Julius Shulman Photographic Archive, Research Library, The Getty Research Institute






By 1940 there were over five hundred local housing authorities functioning in American cities. Typically consisting of at least five non salaried board members or commissioners, these authorities worked with a paid staff of professionals to implement in their communities the various housing laws enacted by Congress. In urban areas with large African American populations living in substandard housing one of the members was often African American. (Catherine Bauer. A Citizen's Guide to Public Housing. 1940) In 1933 Los Angeles Mayor Frank Shaw appointed Paul R. Williams to the city's first Housing Commission, and he shortly thereafter began serving on the National Board of Municipal Housing. His service on these commissions spurred his interest in public housing. As a result, Williams co-designed the first federally funded housing project in Washington, D.C.
Pueblo del Rio in Los Angeles was created in 1940 for the Housing Authority of the City of Los Angeles by a team of the city's most talented designers. The group known as the Southeast Housing Architects Associated, included Paul R. Williams, Richard Neutra, Gordon B. Kaufmann, Adrian Wilson, and the firm Wurdeman & Becket. Pueblo del Rio was the result of their efforts and is an example of mid-century planning ideals and Modern functionalism tempered by the realities of building large projects during WWII.
Taking two years to complete (1941-1942) the Pueblo del Rio Housing Project (52nd Street and Long Beach Avenue), located in one of the older residential areas of Los Angeles, was built to house the city's growing population of defense industry workers. During WWII many large non-war related building projects were put on hold. Because of its use as primarily as housing for defense workers, Pueblo del Rio was given a priority rating by the national Office of Production Management. (Los Angeles Times. October 11, 1941) The collaborating architects used this project as a "laboratory" for new construction methods as well as ideas for simple and utilitarian housing that represented a shift in government attitude toward housing "families of pinched income." (Architect and Engineer. February 1937)
Covering 17.5 acres and consisting of 57 two-story apartment buildings, the complex was constructed of brick masonry and reinforced concrete while the single story administration building was built solely of masonry. (The on-going war effort mandated little use of scarce metal.) The apartment buildings measured 26 feet 6 inches wide and varied from 84 to 120 feet in length. The buildings contained 6, 7 or 8 units. Individual flats ranged from 3 rooms to 6 ½ rooms. Completed on a tight budget with few frills, the apartments opened onto gardens on both sides allowing light and air to flow through the rooms.
The work on the site began with the clearing of the existing substandard housing. The architects' design for this housing project was restricted by the existing streets and the limited physical area, necessitating a gridiron pattern. The children in image 5 are seen on the stoop of their new home. All the buildings have a courtyard with adjoining rear yards, giving the units a California outdoor-living feeling.
The children in image 6 play on the front lawn of their unit at Pueblo del Rio, showing the design of an entrance front. Exterior walls were originally painted in shades of tan and off-white with a chocolate dado. This 1940s architectural design by the Southeast Housing Authority was considered modern in its time with wide overhang for the flat roofs, spacious windows, and simple lines and proportioning.
Image 7 shows children playing on the swings in the housing project's playground designed by the landscape architect Ralph D. Cornell. Image 4 shows Cornell's use of large-scale plantings at Pueblo del Rio. The Housing Authority had mandated the "eliminating of unnecessary frills" in its sponsored projects and the landcape master plan for this development averaged one tree per dwelling. Cornell wrote about his experience complying with the directive in Architect and Engineer (September, 1942), "The necessity of making every tree and shrub count to its utmost cannot but lead to directness and simplicity of treatment." Creatively placing plants, shrubs and large trees, Cornell's plan allowed for shade and functional screening "as gracefully and attractively as possible." His design also allowed for an average of one-half a fruit tree for every tenant family.
The project was completed two months ahead of schedule. The accelerated building progress was due to excellent winter weather and to the system of construction and contractor's methods of operation used for the first time on this particular site.
In a pamphlet published at the time of construction, Catherine Bauer, an important voice in the U.S. Housing Authority movement, posed a telling societal question regarding building quality public housing on such a large scale: "Are the houses too good? Are the costs still too high?" Bauer's answer was, "It is well to remember first of all that flimsy building is no economy in the long run, and that sound construction is perhaps even more in the interests of the community as a whole than of the immediate tenants. Public housing projects are designed to be operated economically, above all with a minimum of upkeep and repair work." Pueblo del Rio with its innovative construction methods and materials was seen as a leading example of what public housing in the future might look like.