| | |
| --- | --- |
| Gallery | Airform Buildings |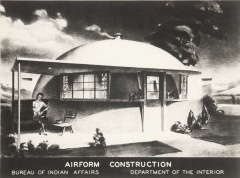 Williams' rendering for Airform Construction
Bureau of Indian Affairs, Department of Interior, Courtesy of Jeffrey Head 2014


"Expensive homes are my business and social housing is my hobby." (Pasadena Oral History Project: Interview with Wallace Neff. 1977)
"It is a foregone conclusion that there will be thousands of modern small homes built in the post-war world. An eager generation … is filled with the desire to have homes of their own…" (Paul R. Williams. The Small Home of Tomorrow. 1949)
Architects Wallace Neff and Paul Revere Williams often competed for the same client base and both would make their reputations and fortunes designing expensive homes for wealthy patrons. As their professional careers matured, the two men focused on a variety of other projects and became interested in the chronic housing shortage affecting the majority of Americans. As a young architect Williams developed a reputation as a "master" of small house design and was subsequently hired to design large developments filled with hundreds of his affordable homes. Neff was fixated on designing a small, durable house that could be built in days using inexpensive materials. His solution was the Airform or bubble house.
Scores of Williams' designs for small prefab or standard construction homes were published in books of plans available to builders, contractors and potential homebuyers. Though simple in concept, his small houses had a custom look and hundreds were built across the country modeled after his plans. Developers and the general public found it hard to embrace Neff's radical "circular form" house and he spent much of his time and personal money trying to solve technical design/construction issues for his unconventional design. Pooling their design strengths and professional connections, Neff and Williams formed an unlikely collaboration to get the Airform accepted by the American buying public. (Wallace Neff 1895-1982: The Romance of Regional Architecture. 1989)
Williams and Neff came from radically different backgrounds but had much in common. Important members of Pasadena's establishment, Neff's family moved to Europe shortly before WWI to expose their children to a larger cosmopolitan world. Living in Germany, Italy and France, Neff saw first-hand the continent's grand architecture. The experience would influence much of his future residential design. Paul Williams grew up in Los Angeles and his foster family represented the emerging African American middle class. They encouraged his aspirations by instilling respect for education and self-improvement and stressing the importance of building and maintaining social networks throughout life. These were life lessons he never forgot (The American Magazine. July 1937). Impatient to begin their lives work, neither man completed formal university education and both benefited from immense personal charm, innate talent, important early professional mentors and powerful patrons.
In the 1940s the lack of affordable housing in America created many societal problems. Defense workers in WWII needed "instant" housing and war veterans demanded better places to live. Wallace Neff 's solution was the Airform House or bubble house, a design inspired by nature, the seashell and soap bubble, and constructed by "spraying a house around a balloon." (Los Angeles Times. October 1946 and Life. December 1, 1941) Neff was obsessed with promoting the Airform as a viable housing solution and his ideas were explored in professional and popular publications including Architectural Record, Architect and Engineer, Concrete Builder and Western Construction News, Newsweek and Popular Mechanics.
Neff continued to perfect the engineering of the Airform and experimented with a variety of construction techniques and materials. Tinkering with the form for years, he believed this design would meet every concern of the modern homeowner. Each Airform was: fire, earthquake and storm resistant; bomb and termite proof. Construction time was quick and the cost of materials economical. Neff's biggest problem was convincing developers to embrace his new form. He turned to fellow architect Paul Williams who had already designed communities at every price point.
Williams and Neff worked together on a number of proposals for large Airform developments to be built in the United States, Africa and South America. Neff labored over construction issues and Williams laid out the landscaping, street design and amenities. Private developers showed little interest in providing the financing, so the men lobbied state, federal and foreign governments hoping to generate interest. In 1953 Neff and Williams proposed a mega public housing development for 1000 Airform homes in Las Vegas. They also submitted plans for hundreds of the houses to be built on Native American reservations for the Department of the Interior (image 1) and US military bases across the world (image 2). (Jeffrey Head. No Nails, No Lumber: The Bubble Houses of Wallace Neff. 2011 and Getty Research Journal. #3 2011.) Sadly none of their proposals were accepted or completed.
Neff continued to design and promote the Airform through the end of his lifetime. He was involved with proposals for over 400,000 buildings but fewer than 2,500 were completed including his brother's home in Pasadena. While the buildings fit America's love of new technology and space-age design, there were too many inherent problems: dampness and cold, inflexibility of room shapes, interior decorating issues and often a lack of natural light. Americans might enjoy looking at and debating new, modern housing forms, but they were not willing to give up their traditional homes.
Neff and Williams maintained their relationship until Williams died in 1980. Designer Cliff May, the creator of the modern ranch-style house, included Paul Williams in a series of luncheons he gave for the elderly Wallace Neff that included many of the building leaders of their time. As Neff's health declined, he enjoyed reliving past successes with these contemporaries and they often exchanged their trade "secrets." Speaking to the group and later to his attending nurse, Neff confided "…his favorite house was the Bubble… and his advise was always 'Start building it when the sun comes up.'" (Dianne Kanner. Wallace Neff Architect to the Stars. 1996)
Thanks to Jeffrey Head for his insight and generous help.