| | |
| --- | --- |
| Gallery | Jay Paley Residence, Beverly Hills, CA |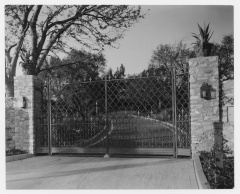 Exterior J. Paley House
The Mott Studio, ca 1938, Courtesy of California State Library, Mott-Merge Collection



















In the 1930s, Jacob "Jay" Paley was often described by his Hollywood friends as a dilettante. Retiring at the age of 42, he sold his interest in the Congress Cigar Co. (La Palina) and traveled the world. After seven years of continuous travel, he settled in Bel Air's Holmby Hills in a Paul R. Williams-designed mansion with interiors by Harriet Shellenberger. Shellenberger, a much in-demand decorator of the time, also worked with Williams on the redesign of the Beverly Hills Hotel and the Arrowhead Springs Hotel resort.
During the Great Depression, architects and builders across the United States found little work. Paul R. Williams appeared to be immune to the financial down-turn affecting his profession. In 1934 when Williams received the commission to design Jay Paley's Bel Air residence, he had already completed 36 other large Hollywood homes. (Watters. Houses of Los Angeles: 1920-1935, 2007) This was the Golden Age of American film. To the public, the movie industry's stars, producers, and directors appeared depression-proof. Williams was establishing his reputation as the architect who instinctively knew what his Hollywood power elite clients wanted.
At first glance Williams' design for the Paley estate appears traditional but his treatment was decidely modern. Working closely with interior decorator Shellenberger, the completed home with its gardens successfully combine traditional Georgian elements with "moderne" furniture and attitude. The H-shaped, 20-room Paley residence of stucco and hand made brick facade, described at the time as Georgian Colonial–style, was built with the owner's life-style requirements as well as the California emphasis on outdoor living. The elaborate landscaping with its extraordinary pool by Edward Huntsman-Trout working in close collaboration with Williams, combines "Baroque elements, exotic references to natural phenomena, and some Art Deco sculpture." (Streatfield. California Gardens: Creating a New Eden. 1994)
A brief article in Southwest Builder and Contractor (September 27, 1935) described Williams' vision for the two-story residence: carrara marble and glass in the kitchen, bathrooms and showers, rubber tile work, and a mix of oak and linoleum floors. Hardwoods and pine trim were to be installed throughout along with closets lined with cedar. A state-of-the-art gas-fired heating/hot water system and air conditioning were also to be installed. The builders, O'Neal & Sons estimated the cost to be $100,000 a huge sum for the time. More details would be listed, along with photographs (Image 9), in scores of national interior design magazines including Architectural Digest (1937).
The home's curving driveway led to a forecourt with a large paved axis, a popular cartographic motif found in many Los Angeles estates built in the 1930s and 1940s. The inlaid axis of red-colored aggregate gathered in Maryland was installed by local craftsmen. Williams continued the idea of radiating axis lines through the house and to the pool ending at the pool pavilion (images 8-10). The bottom of the swimming pool is covered in thousands of multi-colored tiles imported from France that form a mosaic sunburst with the twelve signs of the zodiac. This pool built by the Paddock Engineering Company is considered one of the most beautiful in California. Two "sandy-beach" pool-side areas were used for sunbathing providing the Paley's and guests an eccentric outdoor living space. A separate pavilion created to service the out-door area included a bar, grille and small card room. (Pacific Saturday Night. November 20, 1937)
Settled in his new home (1936), Paley learned the rumba, played high stakes poker with studio elite and produced two movies. Architectural historians consider the Jay Paley mansion one of Williams' finest and most successful residential designs. Jay (1885-1960) and his wife Lilian (1893-1954) would live in the home until their deaths. In 1961 most of the Shellenberger interior was removed and sold at auction. The estate was sold for $475,000 and the surrounding acres developed.
Unfortunately a subsequent Paley/Williams collaborative project was not as successful. Paley was a major stockholder in the extensive Paul R. Williams' renovation of the Arrowhead Springs Hotel. Aesthetically the hotel was a triumph for Williams and his design team, but as an investment for Paley it was a disaster.
The photographs used in this Gallery entry were created by Mott Studios, the Los Angeles company that set the standards for modern architectural photography. Using floodlights and highly staged interiors, Mott photographers took thousands of images of the homes of Los Angeles' establishment and popular movie stars. Mott pictures were used to illustrate interior design publications and fan magazines and helped craft a curious public's image of Hollywood's glamour. Largely forgotten, thousands of Mott images are preserved and are available at the California State Library.