| | |
| --- | --- |
| Gallery | Dr. A. E. Abdun-Nur Residence, Tarzana, CA |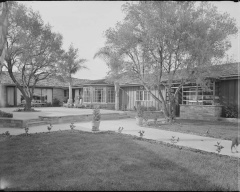 Residence, Dr. A. E. Abdun-Nur, Exterior
Photographer: Maynard L. Parker, The Huntington Library, San Marino, California



Tarzana is a bedroom community of predominately single-family residences located in the greater metropolitan Los Angeles area. The original acreage was purchased by the Los Angeles Suburban Homes Company, a group of L.A. businessmen anticipating the city's annexation of this unicorporated area. In 1909 it was a hodgepodge of small berry farms and poultry ranches. Edgar Rice Burroughs, author of the immensely popular pulp fiction Tarzan adventure series, bought 550 acres from the company in 1915 and renamed it Tarzana Ranch. After building a baronial mansion for himself, Burroughs developed the land providing basic services and sold residential lots at $1,500 per acre. Burroughs changed the character of the area from rural to suburban and the community "applied for a post office in 1930 under the name Tarzana, the name it bears today." (Los Angeles Herald Examiner. October 14, 1979)
When Paul R. Williams designed this California ranch-style home for Dr. and Mrs. Assad Abdun-Nur, the area was recognized as a residential community for the growing, wealthy Jewish and Middle Eastern population in Los Angeles. Born in Lebanon Dr. Abdun-Nur came to the United States in 1906 and completed his medical education in the North East. Abdun-Nur practiced general medicine from 1916 to 1956 and was head of a large Los Angeles clinic called by his name. Well known in "club circles" the Doctor was recognized as a leader in both the Lebanese Christian and medical communities. (Oxnard Daily Courier. October 6, 1921) In 1921 he married Amenie Abdelnour of Santa Paula. His bride was a member of an established Syrian family.
The Abdun-Nur Casa Drive home was known as a "landmark on the hills above Tarzana" (Los Angeles Times, April 26, 1953) and was the setting for large receptions honoring local leaders and important visitors from Lebanon. His son John was involved in the development of Tarzana as a primary investor in Orange Acre Estates, a subdivision of twenty-two half-acre home sites with bridle-trails and aquestrian stables (Los Angles Times April 24. 1949).

With a temporate climate, Californians have always been obsessed with the outdoors and the swimming pool plays an important role in the unique California spirit. (image 2) In 1927 landscape architect Paul Thiene wrote about some of the influences on the region's lifestyle, "Our mild climate in California permits us to make use of an open-air swimming pool practically the entire year" (Landscape Architecture, October 1927) According to local lore the first residential swimming pool was constructed in Tarzana. Whether true or not, the Abdun-Nur's pool and terrace area designed by one of the best landscape architects of the era, Thomas D. Church, was built in a spectacular setting.
Thomas D. Church was one of the foremost proponents of the popular postwar "California Style" of landscaping. Historians frequently credit him with originating this new garden prototype and photographs of his projects were often included in popular style magazines. The photo-essays in House Beautiful, House and Garden and Sunset popularized his design ideas beyond California. These Maynard Parker photographs of the Abun-Nur home, pool, terrance and gardens are examples of his work.
In his 1955 book Gardens Are For People: How To Plan Outdoor Living, Church described his design philosophy: "There are no mysterious 'musts,' no set rules, no finger of shame pointed at the gardener who doesn't follow an accepted pattern." For example Church believed that understanding basic ideas made for the best swimming pool design -- "swimmers wanted sunshine, some shade and privacy" and the pool should be "conceived and designed simultaneously" with the rest of the house. (Architect and Engineer. March, 1946) Church stressed the importance of house design compatibility with garden design and that landscape architects must, like residential architects consider the complete building site from "property line to property line." These ideas complimented Williams' own views. Collaborating the two architects provided the Abun-Nur family with an inviting home with an exceptional outdoor entertaining space.
Williams was known for using a sweeping entry staircase or an oversized fireplace to create a dramaic interior focal point. Thomas Church believed "the pool is a place to gather round" and when designed correctly served the same focal purpose for the home owner.