| | |
| --- | --- |
| Gallery | Charles E. McGinley Residence, Los Angeles, CA |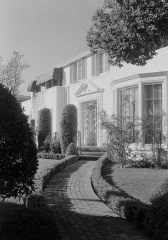 Residence, Charles E. McGinley, Exterior, 1941
Photographer: Maynard L. Parker, The Huntington Library, San Marino, California


The West Adams section of Los Angeles is considered the first bedroom community in the city. Located between downtown and the USC campus, the area blossomed with the introduction of streetcars. At the start of the 20th century this new mode of transportation allowed successful businessmen to escape downtown and build their mansions further west. Movie industry elite, lawyers, doctors and other professionals soon followed building smaller, yet still elegant homes and bungalows in the area. For twenty years the area around Adams Boulevard was the place to live.

This 1941 Maynard Parker photograph of Charles E. McGinley's West Adams residence is the "after" photo of Paul R. Williams' extensive 1939 renovation. McGinley, an heir to his brother's $2,000,000 estate, commissioned Williams to enlarge and update the house. Though the original 1924 Emmett G. Martin designed structure was Prairie School, the final product was representative of Williams' Classical Regency Revival-style with formal front walkway (image 1) and graceful entry stairway (image 2).
While the building permit specified only "general remodeling," McGinley expanded his original home site by purchasing two adjacent lots, tripling the size. Williams' design was a totally new building on the old foundation. This new, expanded house better suited the proposed use by the new residents. Built primarily as a "winter retreat" for the original owners, Charles and his sisters, Mary and Annie, lived there full time with an assortment of pets.(Suzanne Tarbell Cooper. West Adams, 2008) Their outdoor entertainments were well documented in the society section of the Los Angeles Times.
Members of the McGinley family continued to live in the house and hosted scores of famous visitors to Los Angeles. Walter McGinley was Robert Kennedy's godfather and family lore is Kennedy spent his last night in the house before going to the Ambassador Hotel to celebrate his Democratic primary victory. Kennedy was assassinated the following day as he walked throught the kitchen of the hotel. (Los Angeles Splash Magazine, December 6, 2011)
In the 1930s economic depression diminished the West Adams' glamour and some of the original white residents moved out. African American entertainers, such as Hattie McDaniel, and successful businessmen replaced them. The Santa Monica Freeway cut through West Adams in the 1960s destroying many of the large homes. In recent years there has been a rediscovery of the area by architectural historians and young professionals. With the rich mix of buildings representing every early 20th century California architectural style, the area has more Los Angeles City Historic-Cultural Monuments than anywhere else in the city.