| | |
| --- | --- |
| Gallery | Mrs. Leslie Lumley Residence, San Marino, CA |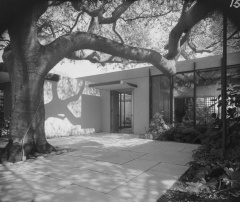 Residence, Mrs. Leslie Lumley, Exterior, 1958
Photographer: Maynard L. Parker, The Huntington Library, San Marino, California




Good clean car! Runs fine. Leslie Lumley, Inc. (Ad in Los Angeles Times, May 4, 1949)

Leslie Robert Lumley's career as an Oldsmobile, LaSalle, Cadillac and Pontiac automobile dealer in Huntington Park spanned 30 years. Owner of one of the largest dealerships in the area, Lumley started the business in 1923 with a loan of fifteen hundred dollars and in short time built his company's value to $200,000. A showman and early booster for the developing California car culture, he was often quoted as an automotive expert and his promotional "stunts" were frequently reported in newspaper articles of the day. In 1946 Lumley, along with ten members of the Huntington Park Automobile Dealers' Bureau, boarded a large aircraft and held a short meeting flying at 7000 feet above Los Angeles. No real business took place, but the group reported it a "thrilling experience!"

In 1937 Leslie Lumley married Miss Aileen Berry of San Francisco in a ceremony at the Beverly Wilshire Hotel. After a two-month honeymoon cruise to Australia, the couple returned to their home. Lumley was an active supporter of politicians, civic causes, the Chamber of Commerce, and the arts. During their marriage the Lumleys' many activities were chronicled in the Los Angeles newspaper society columns.

After Leslie's unexpected death in 1952 of a heart attack at age 58, Aileen continued to live and entertain in this San Marino, California home designed by Paul R. Williams. The modern open floor plan with extensive use of glass provided views of Aileen's famous garden from almost every room. Aileen's North Granada Street residence was the location for receptions and luncheons honoring judges, politicians, the Junior Flower League and various arts groups. As a patroness of both the Girl Scouts and the Hollywood Bowl, the Lumley garden was the site of frequent teas and fund raising tours.